bookmark_border
Help! The form switcher is gone after updating to 2.0!
If you no longer see the form switcher upon updating Gravity Forms to 2.0, there's no need to worry. As of Gravity Forms 2.0, the form switcher was removed and replaced with the admin toolbar menu which is much more efficient. With Gravity Forms version 2.0.2.10, the form switcher has been added back as an icon to the right of your form title.
Why was the form switcher removed?
The form switcher was replaced in Gravity Forms 2.0 to provide a cleaner and more comprehensive interface. This allows you to easily switch forms without inhibiting the UI or distracting some users.
Can I get the form switcher back?
Yes and no. The form switcher is gone from previous state, but the functionality (as well as new features) has now rolled into both the newly added form switcher icon and admin bar widget.
Form switcher icon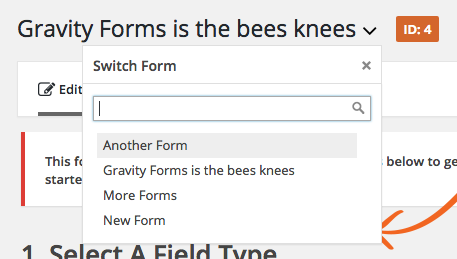 As we do know that many rely on the form switcher, but may have the admin menu bar disabled, we have provided an alternative. The result of the alternative is an icon instead of the drop down. This icon is located to the right of the form title.
Admin menu bar item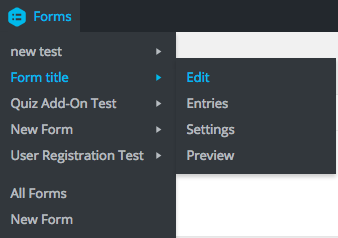 By using the admin bar widget, you will not only be able to access the top 10 most recently edited forms from anywhere on your site, but also perform many more action on those forms from that same location.
If you would like more information on the new Gravity Forms admin bar widget, take a look at our article on enabling the Gravity Forms admin bar menu item.