bookmark_border
Freshbooks Add-on
Note: As of September 2016, Freshbooks has released a new version of their service. Currently, the Gravity Forms Freshbooks add-on only works with the previous Freshbooks Classic version, and will not work with their updated API.
The FreshBooks Add-On requires the appropriate license level to receive access to automatic upgrades and documentation.
Please note that when using the FreshBooks Add-On you are limited to the capabilities of the FreshBooks account you have signed up for. Limitations include the number of clients you can create, so be sure to have a FreshBooks account that will be able to handle the level of integration you choose to implement.
Installing The FreshBooks Add-On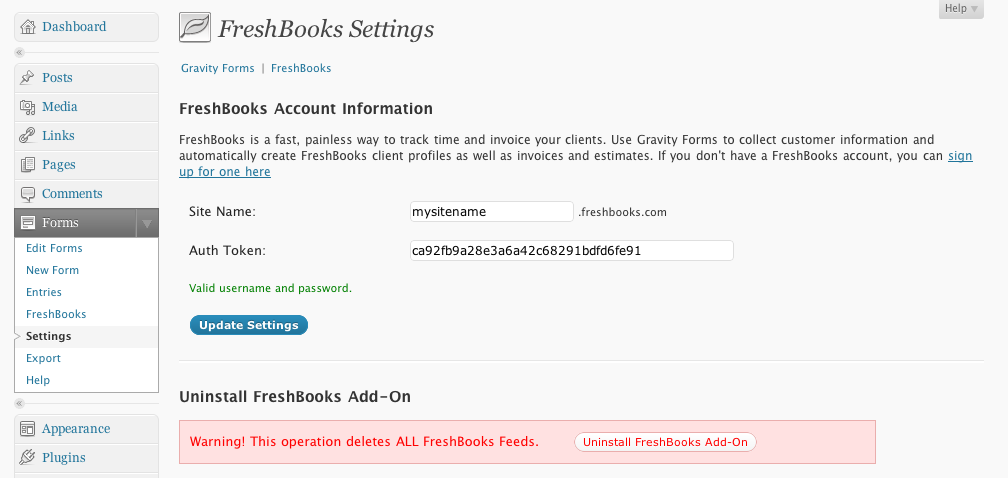 Download the add-on plugin from the Add-Ons download page.
Upload the plugin folder and files via FTP to your wp-content/plugins folder OR upload the plugin zip file via the "Add New" plugin menu in WordPress.
Activate the "Gravity Forms FreshBooks Add-On" plugin you just uploaded.
Setup The FreshBooks Add-On
Now that the FreshBooks Add-On is installed and active you will need to enter your API credentials to integrate with FreshBooks. The FreshBooks Add-On adds a new link to the "Settings" menu under "Forms". Go to the "Settings" page and click on the "FreshBooks" link.
On the FreshBooks Settings page you will need to enter a valid site name and auth token. If you do not have a FreshBooks account you may sign up for one here. You can find your FreshBooks API information in the My Account section of the FreshBooks administration panel and then selecting the "FreshBooks API" link.
If you have entered valid FreshBooks API information you may then proceed to setup your FreshBooks feeds.
Setup FreshBooks Feeds
Your FreshBooks Feeds allow you to integrate a form with your FreshBooks account to feed user information in real time when a form is submitted. This allows you to automatically add (or update) clients, create invoices or create estimates when a form is submitted.
Click on the FreshBooks navigation item on the Forms menu.
Click on the "Add New" button to add a new FreshBooks Feed.
Select the Form you would like to feed data from.
Map the FreshBooks Fields to your available Form Fields. This tells Gravity Forms which form fields should populate your FreshBooks data. Please note that Email, First Name, Last Name and Organization are required fields.
Enter default client notes. These notes will be added anytime a client is added via this feed.
Select if the feed should optionally create an invoice or estimate.
Enable an opt-in condition. The opt-in condition is a conditional statement that requires a check box, radio button, or drop down selection to determine if the data should be sent to FreshBooks.
Save Feed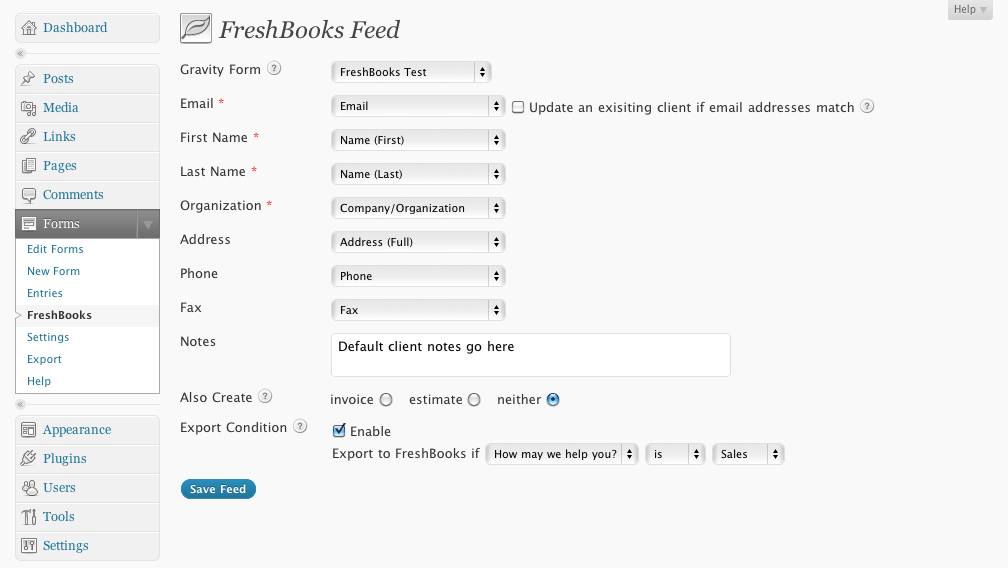 Setup FreshBooks Invoice or Estimate
One of the options available when setting up a FreshBooks Feed is the ability to create an invoice or estimate when a form is submitted. This is an optional step that will allow you to jumpstart the invoice or estimate process by creating one when a form is submitted. This will allow you to then go into FreshBooks and complete the invoice or estimate, saving you time in the process.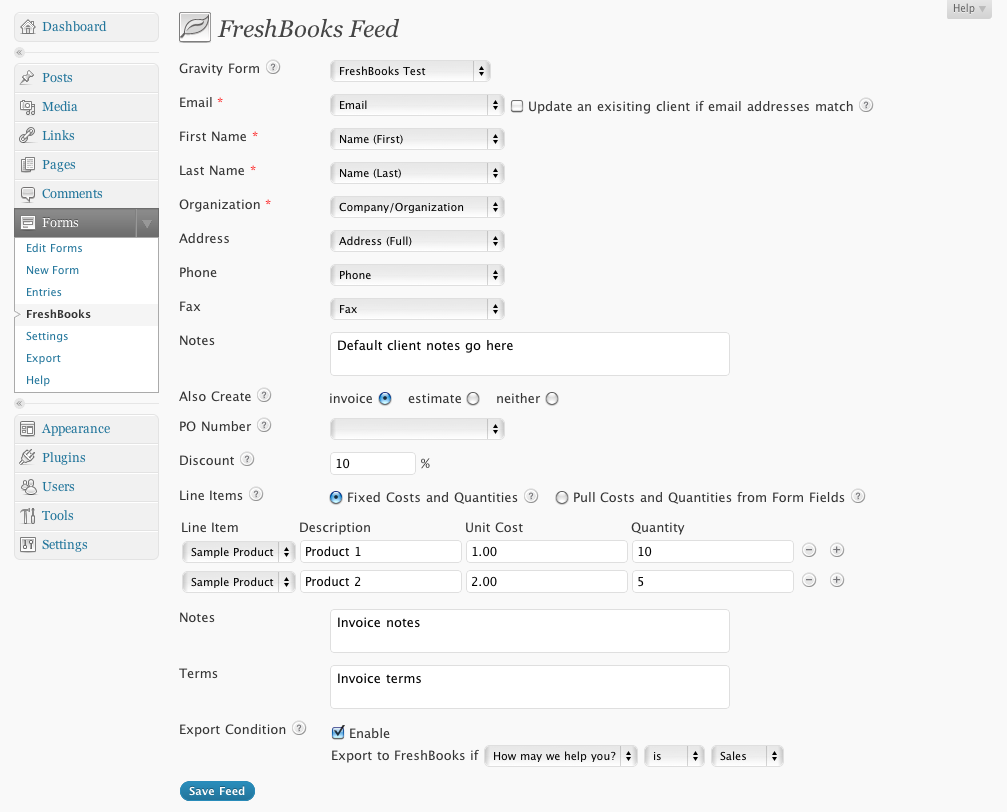 To create an Invoice or Estimate follow these steps:
Select "Invoice" or "Estimate" from the "Also Create" option when setting up or editing a FreshBooks Feed.
Map the PO Number field to an available Form Field. This is optional.
Set a default discount percentage to apply to any invoice or estimate that is created with this feed. This is optional.
Setup your line items by choosing fixed costs and quantities, or opt to pull costs and quantities from available form fields. You an add additional line items by clicking the plus icon. This is optional.
Enter default invoice or estimate notes.
Enter the default terms for the invoice or estimate.
Now that you have setup a FreshBooks feed, when the form you selected is submitted it will automatically send the data you have selected to FreshBooks and automatically create (or update) a client, invoice or estimate.
Last modified: November 6, 2017