bookmark_border
Dashboard Widget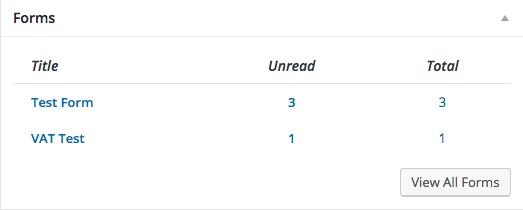 The dashboard widget is installed automatically when you activate Gravity Forms.
This widget provides you with some quick information about the forms you have created. You can quickly see which forms have unread entries, how many unread entries and the last date of entry submission on a form by form basis.
Clicking the form name or the number of unread entries will take you to the entry screen for that form. The dashboard widget only shows unread entries, not total entries.
You may hide the dashboard widget by editing your Screen Options for the Dashboard.