bookmark_border
Section Break
The Section Break allows you to add a content separator to your form to help organize groups of fields. The Section Break is a visual element rather than an actual data collecting form field.
General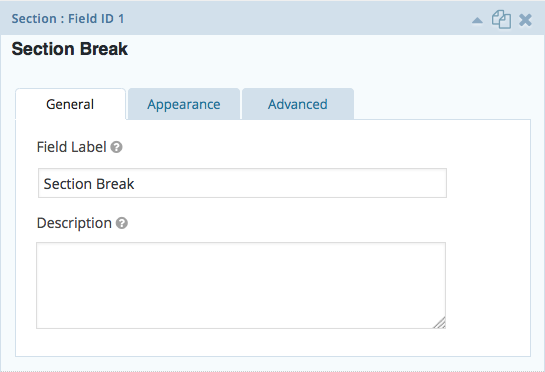 Field Label
Enter the label of the form field. This is the field title the user will see when filling out the form.

Description
Enter the description for the form field. This will be displayed to the user and provide some direction on how the field should be filled out or selected.
Appearance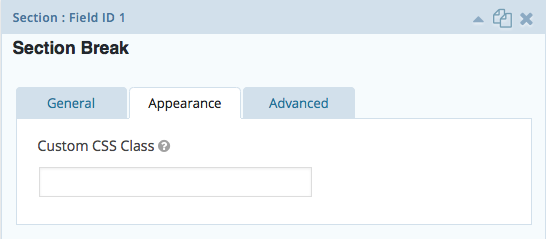 Custom CSS Class
Enter the CSS class name you would like to use in order to override the default styles for this field.
Advanced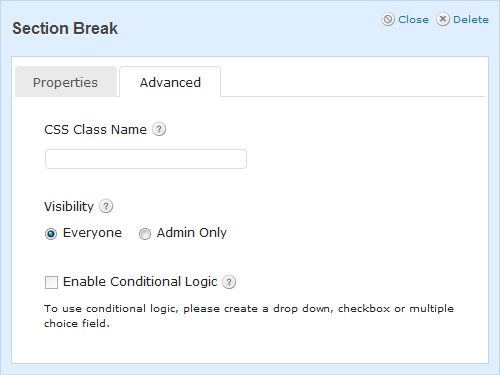 Visibility
Select the visibility for this field. Field visibility set to Everyone will be visible by the user submitting the form. Form field visibility set to Admin Only will only be visible within the Gravity Forms administration tool. Setting a field to Admin Only is useful for creating fields that can be used to set a status or priority level on submitted entries.

Enable Conditional Logic
Create rules to dynamically display or hide this field based on values from another field. Remember, to use conditional logic, you will need to create a drop down, checkbox or multiple choice field.
Merge Tags
This field does not support merge tags.