bookmark_border
Triggering Webhooks On Form Submissions
By using the Gravity Forms Webhooks add-on, you will be able to make remote HTTP requests to external services when a form is submitted.
By utilizing webhooks, you can easily pass form data on to 3rd party services even when there is not an official add-on available for it.
Note: This article assumes you have installed and activated the Webhooks add-on. If not, you will need to do so before any of the functionality in this article can be used.
Configuring Webhooks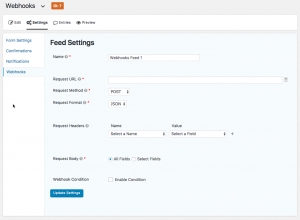 To configure webhooks for a form, you'll simply need to create a feed like you would with most other add-ons. To do so, go to your Form Settings and click on the Webhooks tab.
Next, you'll need to configure the request that is being made. This will vary based on the service that you're making the request to. If you're unsure of what settings to select here, you may want to contact the service that you're trying to connect to.
Like other add-ons, conditional logic can be applied. To use conditional logic, select the Enable Condition checkbox.