bookmark_borderObtaining and Activating Your MailChimp API Key
To use the MailChimp add-on for Gravity Forms, you will first need to obtain and save a MailChimp API key. In this article, we will show you how to get your MailChimp API key, then save it within the MailChimp add-on.
##Obtaining your MailChimp API key
1. First, log into your MailChimp account. If you do not already have a MailChimp account, you may sign up for an account on the MailChimp website.
1.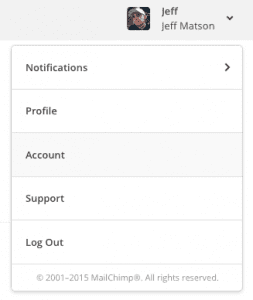 Once logged in, click on your name at the top right of the screen, then click on Account.
1.

From within your account settings page, click on Extras, then click on API Keys.
1.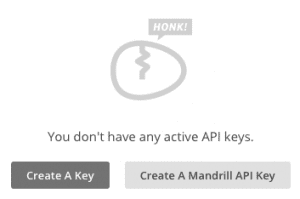 If you have never used MailChimp's API before, you will need to generate an API key. To do so, scroll down the page to the section labeled Your API Keys and click on the Create A Key button.
1.

The page will then reload and the empty Your API Keys section now be now populated with your new key.
##Adding your API key to the MailChimp add-on for Gravity Forms
Now that you have obtained your MailChimp API key, it's time to add it to the GravityForms add-on so that it may begin communicating with the MailChimp API.
First, log into your WordPress admin dashboard.
From here, click on the MailChimp tab.
You have now successfully configured your MailChimp API key to correctly communicate between your forms and MailChimp. Next, you will need to create a feed for MailChimp which is covered in our article on creating MailChimp feeds.