bookmark_border
Poll Settings
Various additional settings are available within the Poll add-on, giving you more flexibility to control your poll as you see fit.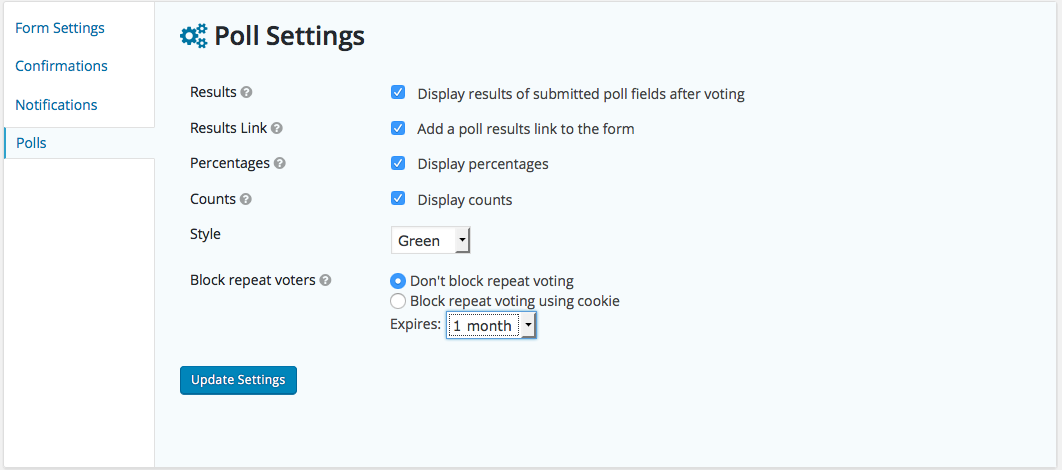 Accessing the Poll Add-On Settings
If not already logged into your WordPress admin dashboard, you will need to do so.
Next, access the form that contains your poll. This is done by simply clicking on Forms on the left side navigation menu, and clicking on your desired form.
On the top menu, you should see a menu item labeled Form Settings. Hover over it and click on Polls.
Poll Add-On Settings
When making changes to the poll settings, these changes will take effect for any polls within this particular form. If you would like other polls to have different settings, they will need to be within a different form.
Results
Enabled by default. If disabled, results will no longer be shown after a vote has been placed on the poll.

Results Link
Enabled by default. Disabling this option will remove the "View Results" link that displays before the vote has been placed.

Percentages
Enabled by default. Disabling this will remove the percentage listing from the poll results.

Counts
Enabled by default. Similar to the Percentages option, but enables or disables the vote counts.

Style
Adjusts the color of the results. The available options are Green, Blue, Red, and Orange.

Block Repeat Voters
Disabled by default. Enabling this option will allow you to use cookies to disable users from voting more than once. Within this option, you are also able to set the time frame between repeat votes.
Last modified: October 4, 2017