bookmark_border
CAPTCHA
The CAPTCHA Field allows you to add a captcha field to your form powered by the free reCAPTCHA service. reCAPTCHA helps to digitize books while protecting your forms from spam bots. It helps determine if the form is being submitted by a human or a scripted bot.
Using the reCAPTCHA field requires signing up for a free reCAPTCHA API account and entering the Private and Public API keys in the Gravity Forms Settings Page.
Please Note: Due to limitations of reCAPTCHA, if your form contains a reCAPTCHA field it will not be able to submit via AJAX.
In addition to reCAPTCHA, the plugin Really Simple CAPTCHA may also be installed and activated for use within Gravity Forms.
General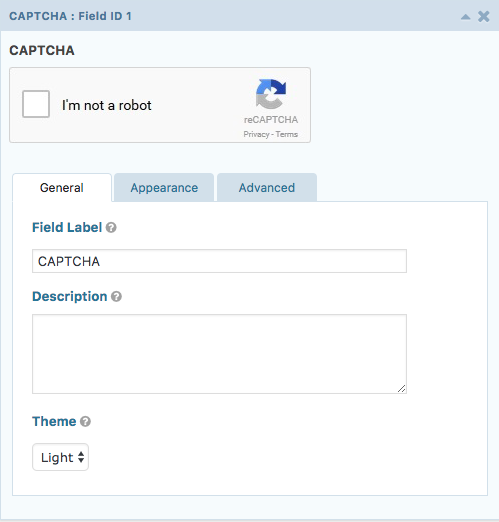 Field Label
Enter the label of the form field. This is the field title the user will see when filling out the form.

Description
Enter the description for the form field. This will be displayed to the user and provide some direction on how the field should be filled out or selected.

Theme
This option is only available when using reCAPTCHA. Select the visual theme for the reCAPTCHA field the available options to better match your site design.
Appearance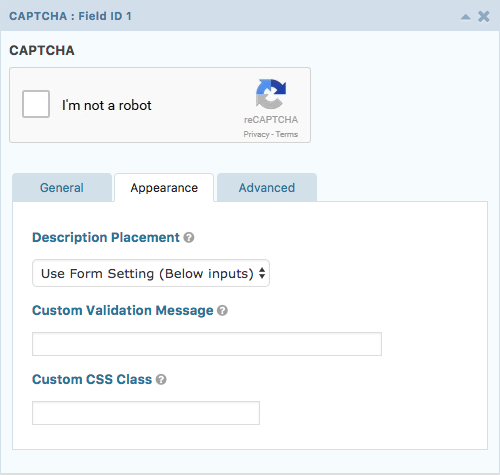 Description Placement
Overrides the default placement of the description, allowing you to place it above or below the field.

Custom Validation Message
If you would like to override the default error validation for a field, enter it here. This message will be displayed if there is an error with this field when the user submits the form.

Custom CSS Class
Enter the CSS class name you would like to use in order to override the default styles for this field.
Advanced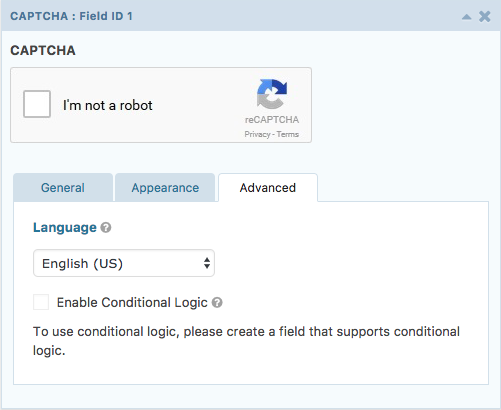 Language
This option is only available when using reCAPTCHA. Select the language you would like to use for the reCAPTCHA display from the available options.

Enable Conditional Logic
Create rules to dynamically display or hide this field based on values from another field. Remember, to use conditional logic, you will need to create a drop down, checkbox or multiple choice field.
Themes
The reCAPTCHA field allows you to select from 2 available themes for the output: Light and Dark.
Merge Tags
This field does not have any available merge tags.