bookmark_border
Password
The Password field provides two single line inputs (one to enter the password and the second to confirm it) that will mask entered content with blobs or asterisks. The Password field is only available when the User Registration Add-on is active.
Properties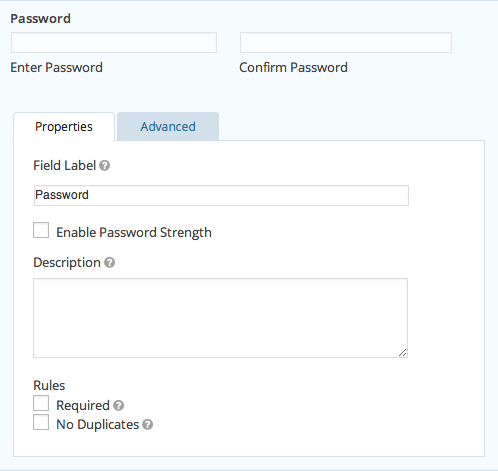 Field Label
Enter the label of the form field. This is the field title the user will see when filling out the form.

Enable Password Strength
Enabling this option will force the user to enter a password which meets the minimum strength requirement.

Description
Enter the description for the form field. This will be displayed to the user and provide some direction on how the field should be filled out or selected.

Rules
These properties set rules for how the data should be handled.

Required
A required field will prevent the form from being submitted if it is not filled out or selected.
No Duplicates
A field set to allow no duplicates will require that a value entered in a field does not currently exist in the entry database for that field.
Advanced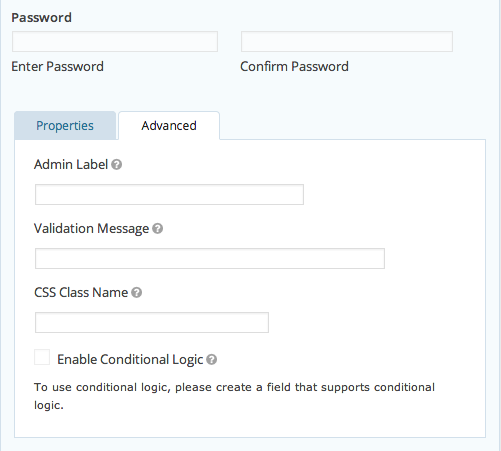 Admin Label
Enter the admin label of the form field. Entering a value in this field will override the Field Label when displayed in the Gravity Forms administration tool.

Validation Message
If you would like to override the default error validation for a field, enter it here. This message will be displayed if there is an error with this field when the user submits the form.

CSS Class Name
Enter the CSS class name you would like to use in order to override the default styles for this field.

Enable Conditional Logic
Create rules to dynamically display or hide this field based on values from another field. Remember, to use conditional logic, you will need to create a drop down, checkbox or multiple choice field.